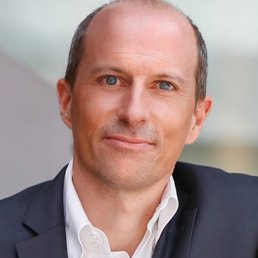 Julian Simons, born in 1972, founded mediascale in 2002 together with Wolfgang Bscheid. The leading agency for integrated, data-based brand and sales communication is part of the Mediaplus Group (Serviceplan) and drives forward technical innovations in the media sector. As part of this position, he is responsible for strategic customer and agency development, alongside the human resources and finance departments.
Furthermore, the Economics graduate founded PREX Programmatic Exchange in July 2016 – a joint venture of the Plan.Net and Mediaplus Group that pools the expertise of both agency groups in the programmatic advertising sector and which he leads as Managing Director.
Julian Simons started his professional career in 1998 as a Customer Advisor at the Serviceplan advertising agency. As Group Head, he took over the business development department of the Plan.Net group in 1999 until he returned to Serviceplan as the Head of Efficiency Planning in 2001.
Julian Simons has been the Chairman of the programmatic advertising focus group for the German Federal Association of Digital Industry (BVDW) and a member of the German Online Advertising Data Protection Board (DDOW) since 2013.
Für Profil-Updates, wenden Sie sich bitte an: redaktion@adzine.de